Andie MacDowell and Rainey Qualley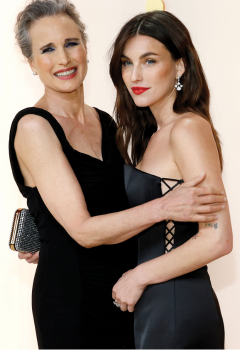 See what Andie MacDowell and Rainey Qualley is up to:
Rainey Qualley is an American Actress and music artist. She releases and writes music under the name Rainsford.
She is a lifelong lover of animals and has been a vegetarian for 17 years.
Taking care of animals brings her so much joy!
She currently has 3 cats named Jesus, Myrtle, and Wizard and a dog she adopted from Helen Woodward Animal Center named Arlo as well as 5 backyard chickens. She also fosters kittens for her local shelter.
Andie MacDowell is an acclaimed actress who received critical acclaim for her role in Sex, Lies and Videotape. She has appeared in several notable films, including Groundhog Day, St. Elmo's Fire, Four Weddings and a Funeral, and Magic Mike XXL.
Off-screen, Andie enjoys time with her family, horses, and many pets including her rescue dog Ava.
"My rescue dog Ava is a kind and loving soul. To know that this sweet girl waited for a home for two years until our family fell in love with her is just heartbreaking. On Remember Me Thursday®, please help spread the word about these lovable pets just waiting to be discovered. A new best friend is waiting for you at an animal organization near you!"