#RememberTheRescue Challenge Winners
Meet the winning pets and pet adoption organizations
Helen Woodward Animal Center is pleased to announce the winners of the second annual #RememberTheRescue Challenge!
We received over 7,400 entries for the challenge and we couldn't be more grateful for all the rescue pet parents who submitted their rescue pet photos and stories. Thank you all for advocating for pet adoption and orphan pets.
Special thanks to Blue Buffalo, Petco Foundation, The Ultimate Pet Health Guide by Dr. Gary Richter, Sydnee's Grooming, and Kong for providing the generous prizes!
First Place – Cappy, Personal Rescue, Prize will go to Homeless Pets Foundation, Marietta, GA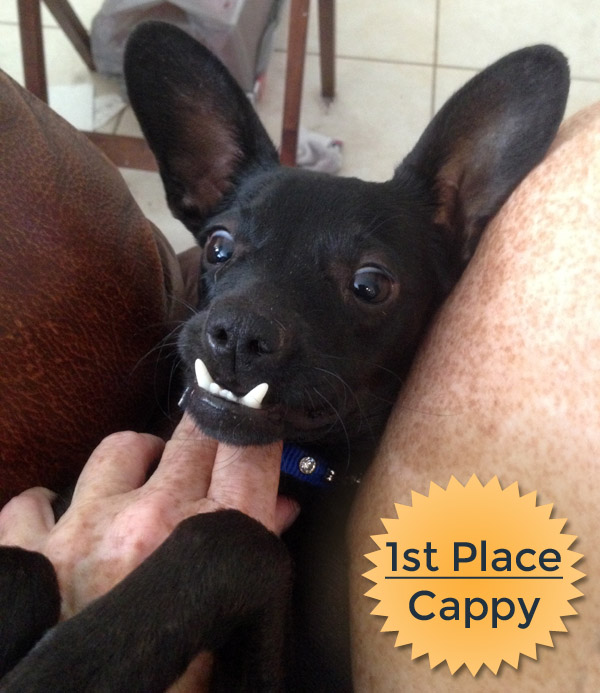 I was helping my father evacuate from Key Largo when Hurricane Irma was close behind. He broke down on the highway behind me around 10pm, with a fuel leak. A fire truck had to come and we waited 4 hours in the grass for a tow truck (the town had already evacuated). During that time, I heard something wheezing and choking behind me. I turned around and this little black creature collapsed on TOP of my feet in the wet grass. It was so dark and he was so peculiar looking. I had to wonder if he was half goat! He was nothing but 7 pounds of skin and bones (should be 20+lbs) and his face was completely swollen. He couldn't breathe and couldn't stand after collapsing on my toes. He was wet, covered in fleas, and his strong odor indicated that something was very wrong with him. I wrapped him in a towel and held him in my arms on the side of the road until the tow truck came. I gave him a little water and some bits of soft chicken, all of which he struggled to swallow. Once my dad's truck was impounded, we continued the drive to Orlando with Cappy in my lap. We arrived at 5am and I took him to the ER vet at 8am. He had an extremely severe dental infection that caused him to lose 5 teeth already and caused his canine to ascend into his sinus cavity (so he could not breathe). His jaw and the roof of his mouth were rotting so badly that the gums were already separating from his entire mouth. He couldn't eat anything due to the pain and couldn't walk one step without touching his mouth. At this point he would fall to the ground because he was so weak. We put him on 6 different antibiotics twice/day and he is now in stable condition, devouring his canned prescription food, slowly gaining weight and even running around and snuggling with our 3 other rescue dogs (despite his cone). Cappy will have dental surgery on Sept 28th, when they will remove his canine and his other rotting teeth! Without our breakdown on the highway, I have no doubt Cappy would've died that evening. If he had survived, he would've had to survive Irma one day later on his own. He is now a huge part of our family and will remain with us forever. He has been a true blessing. He serves as a constant reminder that things happen for a reason and that we all have someone special guiding and protecting us. He turned what would have been a nightmare Irma experience into something so beautiful and I wouldn't trade that memory for anything. His survival meant so much more to me than anything else in that moment. He provided me with as much love and comfort as I provided him during that difficult time. On our first night, he snuggled with me on the closet floor as the winds and rains picked up. He never fails to greet me with endless kisses when I walk in the room. He is still attached to my heels everywhere I go. He knew my family was his last chance at survival in that moment and he never fails to show his gratitude. Now, he can finally stop working so hard to survive and we can shower him with the love and attention he has never received! He is more special than words can explain.
Second Prize – Bear, Personal Rescue, Prize will go to Animal House Cat Rescue, St. Louis, MO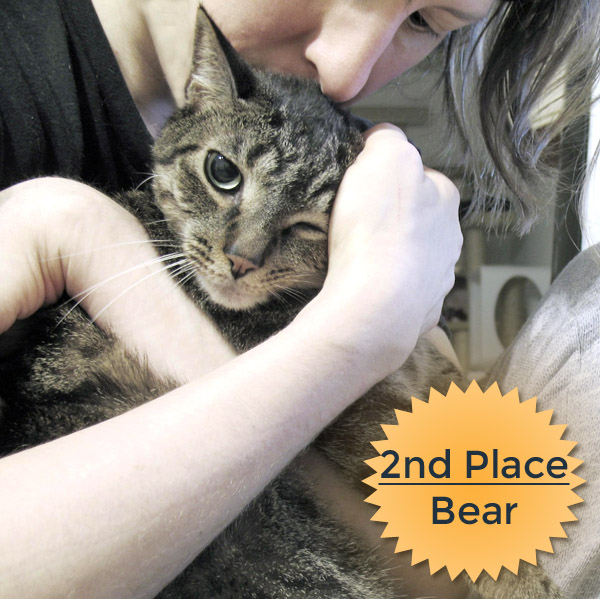 Bear changed everything for me. He transformed my life completely. He taught me to accept love (which came in handy in relation to loving myself…and letting The Boy love me) and showed me that my parents' legacy of selfishness and self-involvement was not my own. I managed to adjust myself to Bear's needs even when it made me uncomfortable and uneasy and he taught me how to do something other than just survive. After years of being subjected to the cruelty of the humans around me, only this little guy was up to the job of helping me heal. Not bad for a kitty I encountered carrying the groceries in one day. Homeless, feral, stray…whatever you want to call it…if my life matters, so does his.
Third Prize – Daisy, Adopted from Saratoga County Animal Shelter, Saratoga, NY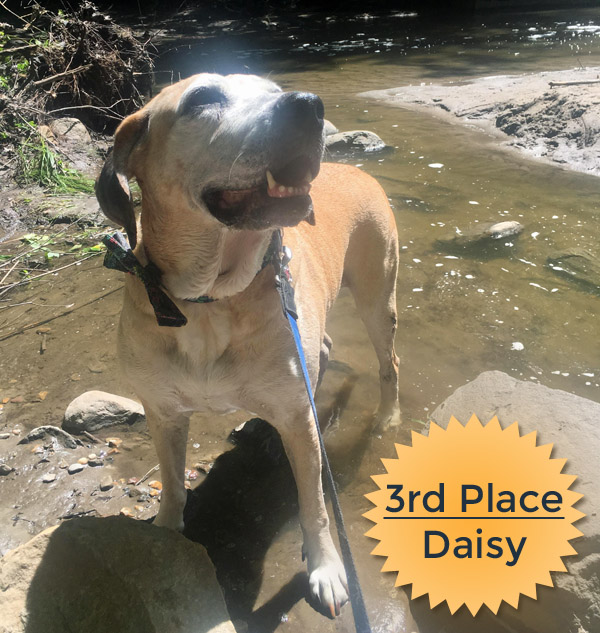 Daisy came home as a hospice adoption. Who would have thought a dying dog would teach our whole family how to live better? We seize the day as often as we can. She shows us joy every day and unconditional love. Both my children have lifelong health issues and she has helped to remind us all that we are so much more than any diagnosis that we have. She is pure love.
First Prize: $5,000 from Petco Foundation, 1,000 pounds of Blue Buffalo pet food and 100 Kong toys
Second Prize: $2,500 from The Ultimate Pet Health Guide by Dr. Gary Richter, 1,000 pounds of Blue Buffalo pet food and 100 Kong toys
Third Prize: $1,000 from Sydnee's Grooming, 1,000 pounds of Blue Buffalo pet food and 100 Kong toys