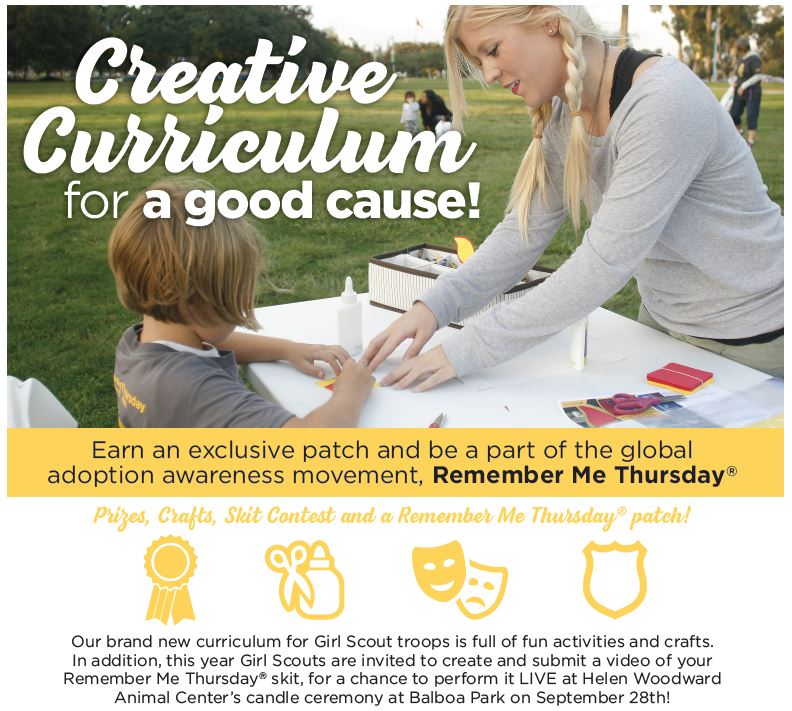 Troop Leaders! Download the official Remember Me Thursday curriculum!
Submission guidelines:
For a chance to perform your troop's Remember Me Thursday skit live at our Balboa Park event on Thursday, September 28, please fill out this form.
Submission Deadline is Sunday, September 10

.
Video must be maximum 5 min in length.
Points Awarded For:
Creativity
Clear storytelling
Including a "Remember the Rescue" message
Enthusiasm
Bonus Points for:
Troop crafted Costumes
Troop crafted set pieces
First Place:
Perform live at Helen Woodward Animal Center's Balboa Park Remember Me Thursday Event!
Skit shared on Remember Me Thursday's Facebook event page and website
Tour of Helen Woodward Animal Center and the opportunity for a puppy interaction
Remember Me Thursday girl scout patch
Animal Lover's Club certificate
Second Place:
Skit shared on the Remember Me Thursday website
Tour of Helen Woodward Animal Center and the opportunity for a puppy interaction
Remember Me Thursday girl scout patch
Animal Lover's Club certificate
Third Place:
Skit shared on the Remember Me Thursday website
Remember Me Thursday girl scout patch
Animal Lover's Club certificate