#RememberMeThursday Challenge Winners
Meet the winning pets and pet adoption organizations
The 2019 #RememberMeThursday Challenge runs August 29 through September 30.
Helen Woodward Animal Center is pleased to announce the winners of the third annual #RememberMeThursday Challenge!
We received more than 8,800 entries for the challenge, and we couldn't be more grateful for all the rescue pet parents who submitted their rescue pet photos and stories. Thank you all for advocating for pet adoption and orphan pets.
First Prize – Liam, adopted from Homeward Animal Shelter, of Fargo, ND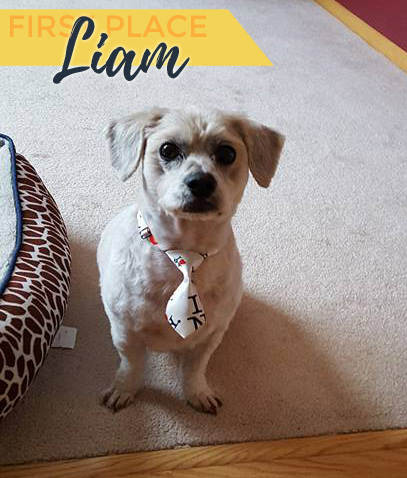 I adopted Liam from Homeward Animal Shelter, in Fargo, North Dakota, in July of 2012. That spring I was attending college at the University of North Dakota, but was struggling with an eating disorder. My parents and I decided that I should drop out to focus on my health and attend therapy. To say I was struggling would be an under estimation. I was quickly losing my life and was searching for a reason to live.
Since I was a little girl I always wanted a dog. I found myself calmed by them; however, my dad was allergic to dogs so I wasn't able to have one. In early June of 2012, my parents suggested that I get a dog to help me with my recovery. I was very hesitant to take on the responsibility of a pet at that time. I couldn't take care of myself let alone another living thing, but, for the first time in a long time, I was excited about something so I started to look at the local animal shelters. That is when I saw Liam's picture at a local rescue. He was a Lhasa Apso/Poodle mix thought to be about 4-years-old. Upon meeting Liam, I wasn't sure he was the right dog for me. He was barking A LOT in his kennel and seemed very high energy, but as soon as we took him out of his kennel his demeanor changed. I sat down on the ground and he crawled right into my lap. He sat there for 45 minutes and would not let me get up. It was as if he knew I needed him. I remember saying to my mom, "He is the one."
Liam came home on July 3, 2012, and we have been inseparable ever since. After adopting Liam something changed in me. I started working really hard in therapy and wanted to get my life back on track. He gave me back the will to live. I attended 2 years of therapy and am happily recovered from my eating disorder. Liam has been with me through college graduation, marriage, and the birth of our first child. Simply put, Liam saved my life. I would not be here without him and I thank God for him every day.
Second Prize – Georgie, adopted from Pope Memorial Humane Society, of Thomaston, ME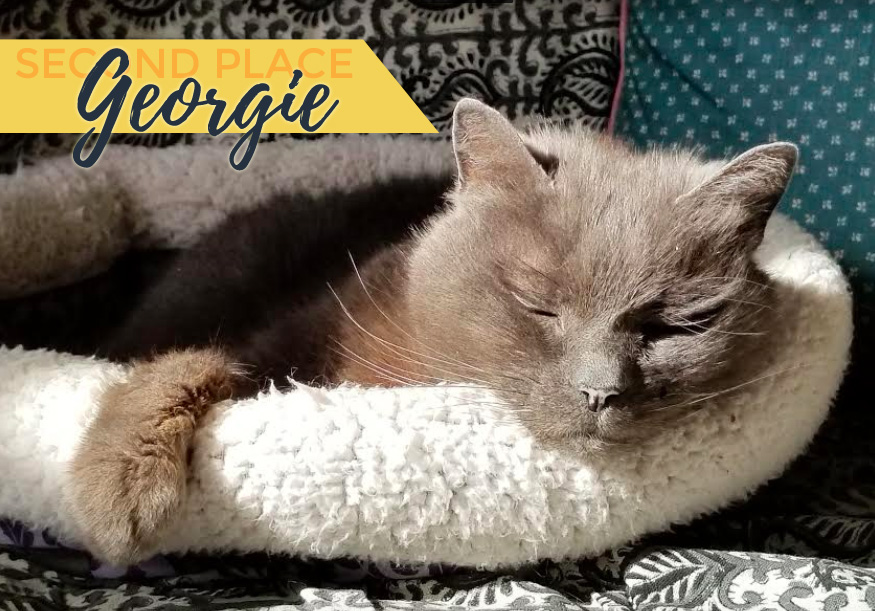 After a summer with an empty house, I began to search for a senior pet. P.A.W.S. had no seniors who even looked at me, though some were beautiful, so I made the decision to go a little further to Thomaston, Maine, and Pope Memorial Humane Society. I found nothing there, but they said, "What about this cat?" They brought a skinny, bony, grey cat into the getting-to-know-you room. He hauled himself up on the couch, curled up and went to sleep.  I said, "How old?" But I didn't have to ask. He looked about 1,000 years old. His fur felt like dry autumn leaves, and there was no fat, only bones. I rubbed his head and ran my hand down his bony back. And stopped. He lifted his head, looked at me, began to purr and head butted my hand until I patted him again, and continued to pet him. I asked his name. "George," they said.  Well… there it was. My friend who died in April, my good old friend was George.
Apparently George the cat was a stray, who lived in the neighborhood of the director of the shelter. Every time she walked her dog, for the past ten years, this cat would appear and walk with them. One of the other residents in the neighborhood always fed him, and at times brought him into her house. When that woman had to go into a care facility, she was worried about George. Her relatives brought him into the shelter. Pope Memorial Humane Society made it possible for me to take this marvelous old gentleman home and care for him the rest of his life. On his adoption papers they didn't write "George," they wrote "Georgie."  My human friend, George, had a full time caretaker during his last few years. She was a marvelous lady. We all loved her.  She called my friend, "Georgie!"
I have a lovely cat friend, who has soul, who is so marvelous!  All because Pope Memorial made it possible for me to take care of him the rest of his life.
Third Prize – Kenzo, adopted from Cumberland Valley Animal Shelter, of Chambersburg, PA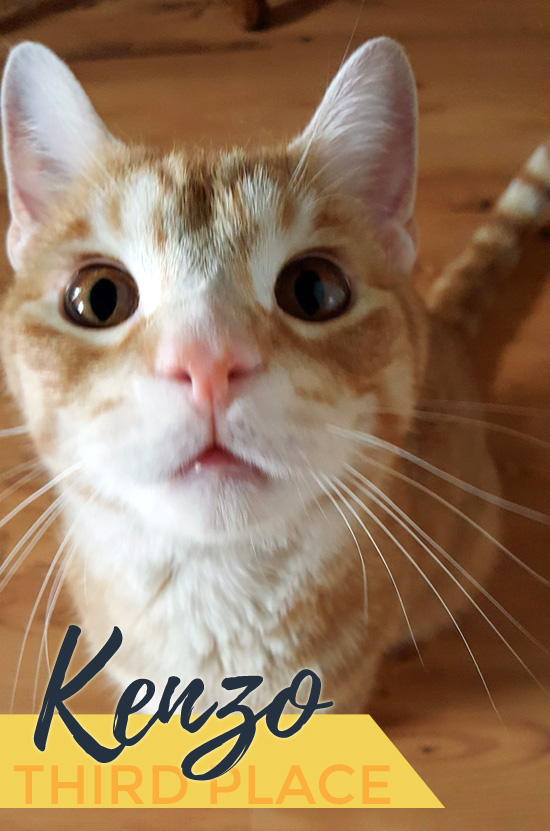 This guy didn't only change my life, he saved it! I am an addict and have been sober for two years this October, all thanks to this guy. I rescued him soon after I was starting my journey. He has given me love and strength and such compassion for life. Every day I come home he greets me at my door and every morning he starts my day with a positivity that cannot be matched. Seeing him progress in overcoming small things, like getting over the fear of a ceiling fan, help me with adversity myself. It's hard to explain but he really has played an important role in my life-changing journey.
2019 #RememberMeThurday Challenge Prize Information
1st place – $5,000 monetary prize, 1,000 pounds of Blue Buffalo pet food and 100 Kong toys
2nd Place – $2,500 monetary prize, 1,000 pounds of Blue Buffalo pet food and 100 Kong toys
3rd place –  $1,000 monetary prize, 1,000 pounds of Blue Buffalo pet food and 100 Kong toys
Prizes sponsored by Naturally Fresh, Miramar Kitchen and Bath and Save This Life.